Introducing...
New to the world of Coco de Mer is Store Manager, Jodie Greaves. We popped in to have a cheeky chat with the new Queen of Monmouth Street...
Welcome Jodie... What urged you to join us at Coco de Mer? What does the brand mean to you?
I joined because I love everything about Coco de Mer. I love that it is a British heritage brand that it is always inventive and daring. I love that it celebrates pleasure and exploration and the store is a treasure trove for the senses. I am proud to be a part of the ongoing development of the brand and that I get to share this knowledge and excitement with everyone around me. In or out of the store.
What pieces are you lusting over already?
The Chromat Leather Symmetrical Skirt which is exclusive to the store. We are the only UK stockist of this incredible brand. Also, the Lelo Ida with remote control (I like to include my significant other).
Your first week is coming to a close. How would you describe it in three words?
Exotic, Tantalizing, Educational.
What wonderful things have you found yourself recommending to customers the most?
All of the Coco de Mer lingerie especially the ouvert style knickers and massage candles.
Tell us your naughty secrets.
You need to come into store to find those out, although the team have many more than me to share. So far...
If you were to host one of Coco de Mer's Salons what would be your specialist subject?
The art of indulgence, highlighting that everyone deserves to have whatever it is that tickles their fancy. Life is too short.
What are your vices?
What one calls a vice another calls a virtue... I have too many to mention!
Who would you invite to a wild and hedonistic party at Coco de Mer?
Gary Oldman.
What's your poison?
Champagne, champagne, champagne. It seems obvious but the pop of a bottle always gets me going.
What should all the adventurers who visit Coco de Mer walk away with?
Everything from the Fleet Ilya collection is sensational and highly arousing. And the new Coco de Mer Tower Texture Glass Dildo.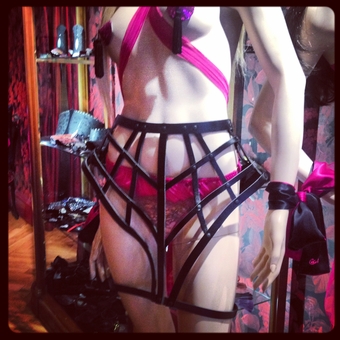 Jodie's craving this Chromat Leather Symmetrical Skirt. To shop our Chromat collection visit the Coco de Mer store.