Persephone: The Power Collection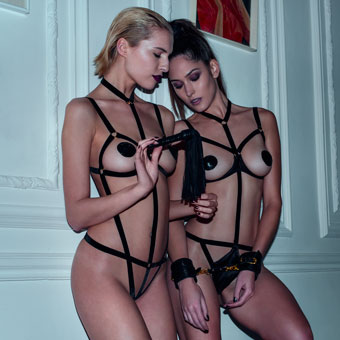 Daughter of Zeus and mistress of Hades, the legendary Persephone was a force to be reckoned with. The ultimate femme formidable, the queen of the underworld is the perfect muse for this powerfully seductive collection. Coco de Mer's in-house designer, Frankie Goulden, shares her inspiration behind this ever popular collection.
"Persephone has always been a bestseller, with its bondage influence and plush silk and velvet finish. I wanted to add to this collection for SS14, and so I developed a new harness-style body to complement the classic frame bra and thong."
"The key thinking behind the design was the female form and the structure and lines that would compliment our bodies," commented Frankie. "The mood of Persephone focuses on the blend of strong styling with soft, covetable fabrics. Much like her namesake, Persephone is fierce and demands a hefty dose of attitude from the wearer - something our customers have in volumes!"
The sumptuous fabric is crafted into a cage-like silhouette, bringing a fearless edge to your look. Take control and command your lover's attention when you slip into this decadent piece - dare to embrace the dark opulence of the Persephone range.