A New Decadent Look to our Store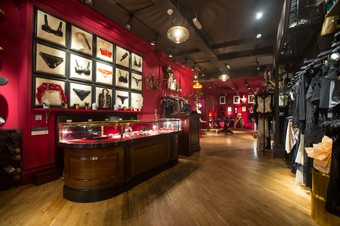 The Coco de Mer Monmouth Street store has undergone a makeover. The newly polished space remains true to its aesthetic, but with glorious new story areas and features created. New hot pink and gold colourways have been incorporated with the addition of pendant lights and antiquity sourced from vintage fairs and markets. Our recently unveiled collection of luxuriant, hand poured candles illuminate the new 'Aroma Wall', framed with Hollywood-style bulb lights.
A new bondage area has been created interspersed with covetable artwork, and we have a newly curated Museum area that is dedicated to rare magazine issues and literature, art, toys and eccentric oddities. Whips, paddles and other play props hang on new displays created with antlers, dipped in gold.
Our fresh new look reaffirms our status as the destination for fashionable folk who crave a little decadent erotica.