Tantalising Salon Schedule Announced for Autumn/Winter 2012
The essence of Coco de Mer lies in its unique Salons. Alternative and educational, whilst simultaneously titillating our minds and our bodies. As the nights start to draw in, what better way to while away a few hours than in the luxurious setting at Coco de Mer's decadent boutique in Covent Garden?
See the full list of Autumn/Winter Coco de Mer Salons.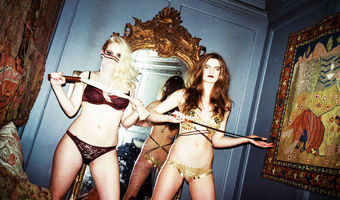 Since launching in 2001, Coco de Mer has always been open about its commitment to ongoing sexual development and believes that wherever one is on their sexual journey, there are always new areas of sexuality to discover. Coco de Mer provides a safe, friendly and relaxed environment to learn. The diverse range of Salon teachers are all experts in their fields and offer valuable knowledge, inspiration and practical advice. The new Salon season brings with it a seriously hot new schedule, a host of familiar and new faces including the ever-popular Midori and our very own Allison England.
The season kicks off with author, journalist and broadcaster, Nichi Hodgson. Nichi will host Domination for Beginners, and will demonstrate that 'in your armoire lies your armoury'. She will be discussing how we can use everyday feminine accoutrements to create sensual scenarios of feminine domination and introduce BDSM and fetish play into our relationships.
Human sexuality writer, speaker and sex educator, Midori, who is based in San Francisco is flying to the UK especially to host the next instalment of salons. A Coco de Mer favourite, her specialties include in-depth knowledge of sexuality and alternative sexual practices. She is the VIP of tutorials and a joy to learn from, listen to and admire.
Finding equality in the measure of pleasure and luxury, Coco de Mer invite guests to embark upon a journey of discovery, innovation and undeniable pleasure. Not since we left school has there been an opportunity for grown-ups to learn something in such a novel, indulgent, practical… and fun way.
The Salons take place from 19:00-21:00 and cost £75 per person. Unless otherwise stated all Salons are open to couples, singles and friends alike. The schedule is now live at www.coco-de-mer.com/salons. Coco de Mer can also host Private Salons in the shop as well as bespoke Salons at private venues